Here's yet another batch of martial arts titles from EastWestDVD that I stumbled across at the 99 Cents Only Store (literally, they were on the floor). These are all different titles from the other batch of EastWest martial arts DVDs that I came across at the 99 about a year ago. Some of you folks may have come across these titles already (they have a 2005 "copyright" date on them), but they were all new to me.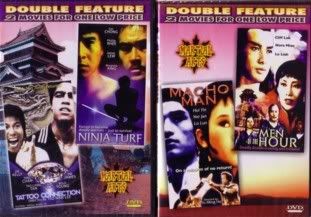 I scoured the display and found 12 different DVDs with 24 films on them. I think that's every title in this series, but I can't be sure. Only 9 different titles were pictured on the cardboard display box. I won't link to every title, but here's the list in case you can't read the DVD cases above:

Land of the Brave - Four Robbers - An Everlasting Duel - Lightning Kung Fu - Drunken Tai Chi - A Fistful of Talons - Mantis Fists & Tiger Claws of Shaolin - Seven Star Grand Mantis - Return of the Tiger - Screaming Tiger - Attack of the Venoms - Monkey Fist Floating Snake - Shaolin Deadly Kicks - The Great General - The Chinese Dragon - Mean Streets of Kung Fu - Snake & Crane Secret - The Snake, The Crane, The Tiger - Fire Dragon - Ninja Thunderbolt - Macho Man - Man of the Hour - Tattoo Connection - Ninja Turf

I'm not too familiar with martial arts stuff, but I have seen Tattoo Connection with Jim Kelly before. Other than that, I see a couple Jackie Chan titles. Not anything else I'm familiar with, but for 50 cents a movie I'll take a chance on a lot of stuff. Perhaps if Atomic Mystery Monster is reading this entry, they can comment on any of these films being copyrighted, or not, about any possible title changes that might have happened inside the EastWest DVD dungeon.