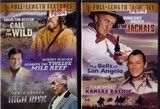 A new cheap-ass DVD vendor has plopped down its wares at Big Lots. It's called Dreamline and it's biggest selling point is that they have now THREE movies on a single-sided DVD for a buck. Needless to say, cramming three films on to one side of a DVD is not good for quality, but who's complaining for a buck? Eh?
The downside is that they are releasing (mostly) the usual PD suspects. His Girl Friday, Africa Screams, Night of the Living Dead, etc. There was a small display of about ten different 3-movie discs. I say mostly the usual, because I picked up two of these discs. I spotted two films I thought I didn't have, and for two bucks, why not take a chance?
I already had Kansas Pacific and Roy Rogers' The Bells of San Angelo on a few different multi-film releases. But THE JACKALS starring Vincent Price was one that had eluded me. I saw the trailer for this flick a while ago on an obscure Grindhouse film trailer collection, and based on that it looked gratifyingly violent. How can you go wrong with Vincent Price? I wonder how many Westerns he actually did?
Same thing with Beneath The Twelve Mile Reef. This was a major studio release, in widescreen and Technicolor. The previous DVD I have of this film looks stunning, with amazing color. I'm sure most DVDs have this nice transfer. Worth getting if you haven't. High Risk with James Coburn was more obscure to me, maybe I don't own it. I'm sure I didn't have this film of Charlton Heston in the Jack London classic The Call of the Wild. Haven't seen any other releases of this one on DVD. Looks good. I liked the source novel in any case.