I was planning on updating everyone on my latest Digiview DVD haul from Wal-Mart, but I'll have to let that go for a while due to Breaking News on the Cheap DVD front.
I went to my local Fry's Electronics today to buy a GPS unit (long story). If you have a Fry's near you, you'll understand how easy it is to spend hours in there, due to both getting lost in the bowels of the store and waiting forever in line. Anyway, while checking out, I happened to come across a display of FRESH Dollar DVDs near the 50 cash registers!
After buying my GPS, I went back and checked them out. Hey, I thought, a new vendor is on the scene: PDC Home Entertainment from North Carolina. I was wrong. This is merely our old friend PLATINUM (aka Platinum Disc Corporation). Apparently they moved from Wisconsin to North Carolina. The packaging (cardboard sleeve) makes no mention of PLATINUM, but it is printed clear as day on the DVD itself. Weird. Actually, I think this is Platinum's first jaunt into the world of $1 DVDs.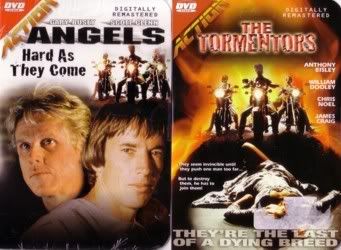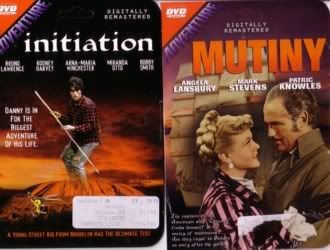 WOW! Some good Bad movies there. I highly recommend THE TORMENTORS, a supreme psychedelic era relic containing bikers, Nazis, hippies, Jesus, and a hilarious scene at the local head shop. I bought this for $7 about 6 years ago. It's easily worth a buck. Get it before it vanishes again.
Looks like they're still flogging some obscure public domain titles, but are also, like other vendors, turning to licensed copies of ultra-low-budget movies that nobody's ever seen or heard of, and probably played on cable twice. Oddly, they're also using the "fake" DVD logo beloved of cheapjack DVD merchants.
Here's the links to the IMBD entries. In case you're too lazy to click over, as a special treat I've excerpted the funniest IMBD user comment for each film.
HOT TIMES AT MONTCLAIR HIGH 1989
IMDB User sez: "Sleep Inducing"
PICK UP SUMMER (1980)
(a.k.a. Pinball Summer...wow! A Canadian teen sex comedy from the Seventies! Watched it: the soundtrack is classic!)
IMDB User sez: "Classic Failure!"
A DOLL IN THE DARK (1997)
IMDB User sez: "Miserable!"
PLAYGIRL KILLER (1968)
IMDB User Sez: "My New Nominee For The Worst Movie of All Time" (Watched it: hilarious! Features a musical cameo by Neil Sadaka singing "The Waterbug"!)
BAJA RUN - 1996
IMDB USer Sez: "Aiming Low, and Missing" (Ha!)
THE DELOS ADVENTURE (1987)
IMDB User sez: "To say this movie is bad is an insult to all other bad movies"
(But on the plus side, it has Kurtwood Smith in it!)
MUTINY - 1952
IMDB User Sez: "Its length (77 minutes) serves it well."
INITIATION - 1987
IMDB User sez: "Karate Kid meets Crocodile Dundee"
THE TORMENTORS - 1968 (?)
IMDB User sez: "Hilariously bad Cheese"
ANGELS HARD AS THEY COME - 1971
IMDB User sez: "Makes taking a nap look like Mardi Gras"