Obligatory Petula Clark reference aside, now I can show you some stuff I found while scrounging around here in downtown Los Angeles. Even if some people living here don't realize it, there actually is one.
First up, I found the following at Goodwill for a dollar each, sealed. Two volumes of the 1995 CBS animated series by Klasky-Csupo, SANTO BUGITO. According to Wikipedia, this show presaged the animated insect community stories of ANTZ and A BUG'S LIFE by several years.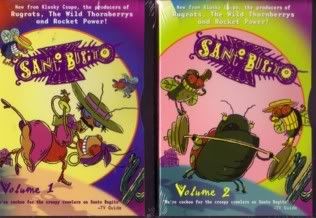 These are from Image Entertainment, so I know the quality will be top-notch. There were only 13 episodes, and I have nine here. I don't know if there was a volume three with the remaining four episodes, but I'll be looking out for it. These were released in 1999, and long out of print. They had a few dozen copies sitting around, apparently not attracting any interest. If you want some, go to the Goodwill in downtown Los Angeles.
Next up, some real obscure stuff. I don't know if any of you were aware of this DVD label, "Value DVD."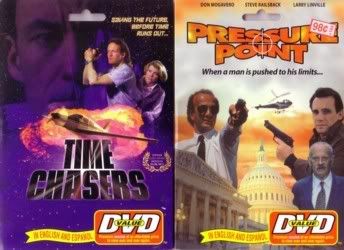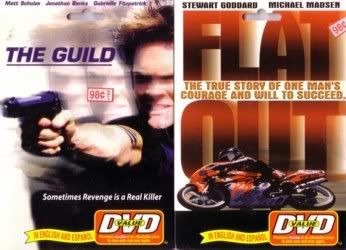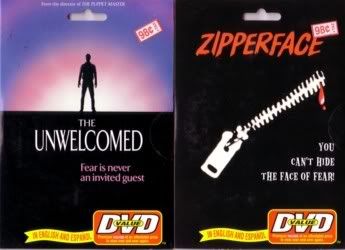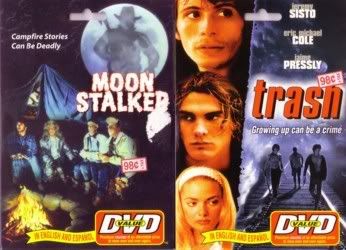 A couple weeks ago, I was looking through a 98 cent store in, of all places, Little Tokyo, when I came upon a display of these dollar DVDs. These are all copyrighted 2004, so I'm pretty sure they've been sitting there for a while. There were about 12 different titles, I only bought the ones that looked interesting.
All of these are ULTRA low budget films. You've never heard of any of the actors in any of these films, except for two of them:
PRESSURE POINT
(a nonsensical title), with Steve Railsback and Larry Linville (Frank Burns on MASH), and
TRASH
with Jeremy Sisto and Jaime Pressly from MY NAME IS EARL. In addition to TRASH, Ms. Pressly also was in POOR WHITE TRASH. There's stretching those acting muscles. FLAT OUT has a small part by Michael Madsen.
When these actors are the biggest names in your arsenal, you're in big trouble. Notice it says that the films are "In English and Espanol," which impressed me slightly, that they would take the time and trouble to dub the movies. But they're not "in Espanol." They only have Spanish subtitles. That's a bit misleading, but what do I honestly expect for a buck?
So far I've only watched two of them:
TIME CHASERS
, I had to admire, since it was obviously shot in some podunk town on a budget of two cents. They used whatever they could find even tried some primitive special effects. This is your typical time travel sci-fi action drama. Guy invents time machine, hopes to use it for peace, but evil forces scheme to use it for world domination, thereby destroying the future. Can he go back to past and destory the time machine before he invented it? A valiant effort, but the acting and directing were pretty poor.
PRESSURE POINT was a decently-shot and directed, but badly-acted run-of-the-mill action/spy drama. This one probably had the highest budget of all of them, since there was some actual expensive-looking location shooting in Chile and other locales. The action scenes are fairly well-staged and nicely edited. They also made good use of library music to make the movie seem more expensive than it was. And Railsback made a quite good villian. But make no mistake, this was a vanity production written by its utterly obscure "star", the balding and affectless Don Mogavero, a charisma sponge if there ever was one. Not only does he have no charisma, but he sucks any out of anyone appearing in a scene with him. Makes Steven Seagal seem like Bruce Lee.
MOONSTALKER
looks like a good old-fashioned serial-killer-offs-stupid-teenagers-in-t
he-woods romp,
THE GUILD
(aka DOWNWARD ANGEL)is about a secret society of assassins that may or may not exist, with a dash of "The Fugitive."
FLAT OUT
is a docudrama about a motorcycle racer who gets injured, then invents training wheels so he can continue racing (Michael Madsen has a small part here.)
THE UNWELCOMED
(aka THE ARRIVAL)is about an outer space meteor which causes a man to grow younger and become a serial killer (Hey, wait a minute! This has John Saxon and Michael J. Pollard in it!)
ZIPPERFACE
is another cops-tacking-down-a-serial-killer puzzle fest, with a bit of panache from "Texas Chainsaw Massacre", obviously. TRASH looks like one of those "searing dramas" about kids from the wrong side of the tracks, who descend into a life of crime. Classic exploitation stuff. Supposedly has a "powerful" and "shocking" ending. What could it be? Jaime Pressly is actually a man? Yeah, that would shock me.
Buy any or all of these DVDs with caution. The 98 Cent Store is dangerous ground, DVD hunters.