Dollar Tree
Found 13 of last years
FVC horror double features
.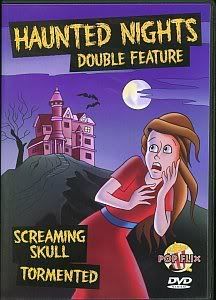 The Screaming Skull - 1958
/
Tormented - 1960

Haunted Nights Defective?
I tried 2 copies from 2 stores, both with same results. Does not load to menu. "Screaming Skull" is a widescreen print but has several freezes during first half of film (quit watching). "Tormented" will not play! 1st frame loads 1/2 way & locks with 1/2 menu screen visible. Disc is single side\single layer. Buyer Beware.
Also found a few copies of
Lady Frankenkenstein - 1971
from Treasure Box in cardboard sleeve.
Family Dollar


Beneath the 12-Mile Reef - 1953
/
The Treasure of Jamaica Reef - 1976
(Into The Deep Vol:2)(Brentwood) $1
Those interested in these films will be surprised to find both presented in "Scope" widescreen. 12-Mile Reef's print is near mint & includes a nice original trailer after the film. Jamaica Reef's print is good with some sections of print wear.
Big Lots
At one of my local stores they had several copies of $1 single features from UAV (Gemstone, Ovation, Sterling) in full size keepcases.
Dracula vs. Frankenstein - 1970
Paul Naschy is not listed on cover or the credits on IMDB but his character gets the most screen time of the 4 monsters featured.
Rough patches but mostly watchable, edited print with nice cover & disc art, nice animated menu, filmographies & trivia. 77 min.
Stuntwoman - 1977
French slapstick comedy dubbed in english featuring Raquel Welch in several revealing outfits including a few see-through & wet tops. Good print with no damage. Nice cover & disc art with filmographies. 92 min.
Lovers and Liars - 1979
Foreign romantic comedy in english starring Goldie Hawn. This is the 3rd version I've seen & 1st to have rear & full frontal nudity from
Lorraine De Selle
& a couple of non-nude love scenes of Hawn. Pretty Good Print. Nice cover art. 92 min.
There were also $1 copies of "Horror Express", "White Zombie", "The Terror", several of the usual Tv Shows & loads of martial arts titles for $3.99? (can't remember)
Also spotted licensed copies of.
Texas Chainsaw Massacre: TNG - 1994
Uncut Canadian Version (Lions Gate) $3
Kannibal - 2001
(Cajun Pictures) Featuring B-Queens
Linnea Quigley
&
Eileen Daly
. $3
Blair Witch 2 - 2001
(Artisan) Includes a full length cd on flip-side with film score & a few metal tunes. $3.99
Dollar General


The Mummy - 1999
(Ultimate Edition)(2 discs) (Ws\Fs) Canadian Version $4
Field of Dreams - 1989
(Anniversary Edition)(2 discs)(Ws) $4
Bealls Outlet


Grand Theft Auto - 1977
(25th Anniversary Special Edition)(New Conorde) $4.99
Wal
-
Mart
Halloween Display $4.88
Village of the Damned - 1960
\
Children of the Damned - 1963
(double feature)
It's Alive - 1974
Jacqueline Hyde - 2005
(Unrated)
Digiview $1. From my experience & numerous reviews (Google), Digiview purposely edit objectionable content out of their releases so I've quit looking. Buyer beware.
Circuit City
(sale ends 10/14/06)
$4.99
Alien - 1979
(20th Anniversary Edition)
Land of the Dead - 2005
(Unrated Directors Cut)
Finding Neverland - 2004
Good Luck,