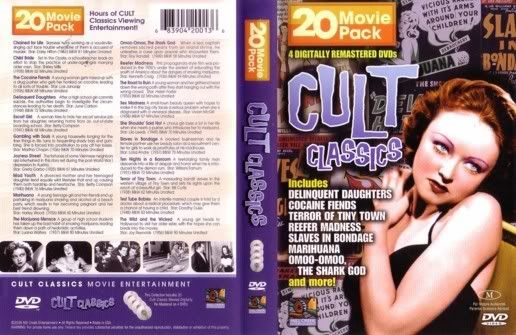 CULT CLASSICS
(20 MOVIES)
MILL CREEK ENTERTAINMENT
Available on E-Bay for about $10 plus shipping.
I thought I would post a (longish) review of this box set from Mill Creek, CULT CLASSICS. It's got 20 Movies, but chances are you've only even heard of about three of them before, never mind seeing them. Let's first talk about what type of movies these are. These are Exploitation Films, in the strict definition of the term. That doesn't mean B-movies, or monster movies, or Drive-In Theatre slasher flicks.
It means films that show sex, or violence, or drug use, but due to the restrictive motion picture codes of the day (usually 1930-1950), are forced to present these movies ostensibly as "educational" features. Sure, these films show prostitution, or girls lured into white slavery, or live human births, or hoochie-coochie dancers, or naked Native women, or people trapped in the hell of demon drug abuse, but we are only showing this to demonstrate the dangers to our children! "Parents, you must see this film!" Yeah, yeah, use the kids as an excuse to indulge in your own sick hangups. Still going on today...
Anyway, some of these films were even shown in a "roadshow" format. The producers would drive with the film reels from hick town to hick town, like the circus, rent out a theatre for a weekend, have an advance man who had plastered the town with posters the week before, and fill the town's little movie theatre for two days running. They would make the real money by selling "educational sex hygeine pamphlets" out in the lobby after the show, by a gal dressed in a nurse's uniform. Anyhow, I could go on here, and there's several books on the subject, which are all fascinating, about this vanished portion of American film history.
About this box set: I am so conflicted! I really love the concept, but it left me wanting to some degree. First of all, the films you've probably heard of are REEFER MADNESS, SEX MADNESS, COCAINE FIENDS, and MARIHUANA (aka WEED WITH ROOTS IN HELL). These films are available from various PD film vendors. The only repeat from another Mill Creek box is JOYLESS STREET with Greta Garbo, a silent film from 1925. A few of the other titles were available from Alpha Video, like CHAINED FOR LIFE (about Siamese twins The Hilton Sisters), and the all-dwarf Western/Musical THE TERROR OF TINY TOWN (I think winner of a Golden Turkey Award).
But you also get mega rare titles like DELINQUENT DAUGHTERS, ESCORT GIRL, and SLAVES IN BONDAGE. How many times have you seen a copy of OMOO-OMOO, THE SHARK GOD??? (Based on a Herman Melville book, BTW.) I've only watched a couple of the titles all the way through, but I took a quick look at everything. I am torn. While the quality on some of the prints is nothing less than DIRE, and a pain to watch, due to the rarity of the titles, I felt compelled to grade on a curve. (Quality is no better than fair to good on the best looking prints.)
Some of these movies had a tiny amount of prints made, and we're probably lucky to be able to see them at all, in any condition. And forget about finding master negatives on these babies. So, for the price, and if you have an interest in old-time Exploitation rarities, I would recommend purchasing this box set. You get a lot of obscure material for the money. It's a good bet for film history buffs. Just keep in mind that you're going to be suffering with horrible technical quality through many of these titles. Acting is also pretty bad on most of them, but acting wasn't the point, the point was illicit thrills in an age when people didn't have televisions in their homes and Playboy Magazine didn't even exist yet. It was this or "French postcards."
Included:
1.
Chained for Life
2.
Child Bride
3.
Cocaine Fiends
4.
Delinquent Daughters
5.
Escort Girl
6.
Gambling with Souls
7.
Joyless Street
8.
Mad Youth
9.
Marihuana
10.
Marijuana Menace, The
(aka Assassin of Youth)
11.
Omoo-Omoo, The Shark God
12.
Reefer Madness
13.
Road to Ruin, The
14.
Sex Madness
15.
She Shoulda' Said "No"!
16.
Slaves in Bondage
17.
Ten Nights in a Barroom
(This 1931 film was the NINTH film version of this story - the first was in 1897!!)
18.
Terror of Tiny Town, The
19.
Test Tube Babies
20.
Wild and The Wicked, The