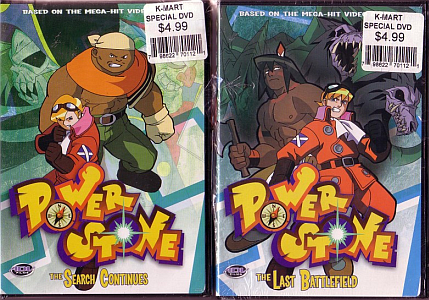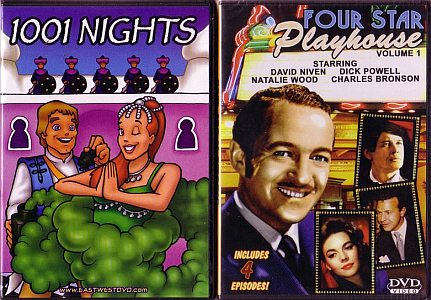 Made another trip to the 99 Cents Only Store today. Finally, they're carrying East West DVDs. I was able to acquire all of the most recent martial arts releases (see entry below), except for Brave Archer 2 and 3, for some bizarre reason. If you look closely, they all have the same catalog number, KF-7002 (I guess the KF stands for Kung Fu), as well as the same UPC Code on all the titles. This saves the company a buttload of money, as it costs a few hundred bucks for each new UPC code assigned. This means that all the titles are considered part of an "assortment," and all the titles are shipped in one bulk order. If you look at the EastWest website, you'll see that this is the case: DVDs can only be ordered in large group assortments, not by individual titles.
They didn't have any releases from the other batch of movies, except for the four episodes of Four Star Playhouse shown, which I hadn't seen before anywhere. About a month or two ago, 99 had a collection of kids' titles from EastWest. They still had a bunch of those left over. I had obtained a few of those titles a month ago, including a collection of Ray Harryhausen shorts (fantastic!). Lots of animation including many titles in Spanish (like "Last of the Mohicans" and "20,000 Leagues Under The Sea." I think these were those Australian titles dubbed into Spanish? Anybody know? )
One disc I passed up the last time was this 1001 Nights, which I assumed to be cheap animation, based on the awful cover art. But lo and behold, I look at the back cover and there's live action stills on there! Then I found out that the film is really this:
La Esclava Del Paraiso
An Italian made color fantasy from 1968! IMDB tells us that this is not an "Arabian Nights" tale exactly, but is similarly set in Moorish Spain, and provides some agreeable Saturday matinee type thrills, reminiscent of 50's Technicolor adventure fare. It has sword fights, an evil king and a gorgeous genie. Sounds like my type of obscure release, so everyone look out for this one. Stars Luciana Paluzzi and Raf Vallone. How long before Mill Creek throws this on a box set? (Update: I watched this one and it's a lot of fun. I recommend. Looks like it was at least partially shot in English, since the mouths match with the dialog, though it is dubbed. They used to shoot movies without sound sometimes and dub everything later.)
99 also had some actual closeout titles, as opposed to DVDs made to sell for a buck. I fished out these two actual non-fake Anime titles in the "Power Stone" series. Note the K-Mart price tag for $4.99. I still paid a buck.
I know nothing about this series (or much about anime for that matter, I'm more of a kaiju guy) but it's ADV Films so it must be at least somewhat worthy. I also found "Great Animation" Volume 2 and 3, one of which supposedly has "Bambi Vs. Godzilla" on it, a stone classic. All in all, a pretty good trip to the 99. I'll have to check out some of the other locations as the stock does vary. Gotta find that Eve Plumb teenage runaway film.