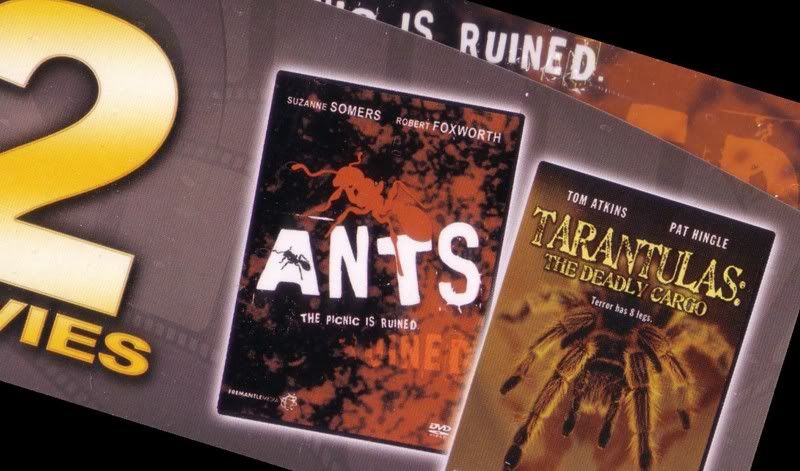 Okay, I guess they finally made their way out to my neck of the woods. Now at Wal-Mart, two packs for $4.88. Even cheaper than the infamous Dump Bin, which sometimes has two-pack movies. These don't seem to be the same double packs mentioned a few posts down...I know I did NOT see the "Joan Rivers Double Pack" and "Susan Lucci Double Pack." These are made by Direct Source Special Products, which is from Quebec (any relation to Madacy, aka St. Clair Vision? Anyone know?) This company also makes cheap-o music compact disc box sets which appear at Best Buy, Wal-Mart and Target.
The Two packs pictured above were the only ones I had any interest in. In addition to these, they also had a lot of dramas, melodramas (including
Freshman Fall
with Mark-Paul Gosselaar) and a couple of Bruce Lee titles. Seems like most of these were licensed movies, but there were a few Public Domain warhorses thrown into the mix, but with different titles to throw people off. One of the ones I saw was "Concrete Cowboys" (Tom Selleck, Jerry Reed, Morgan Fairchild), retitled as "Rambling Man."
The titles I bought were all TV movies. Looks like
The Great Los Angeles Earthquake
and
Countdown
are from 1990 and 1998 respectively. However,
Ants
and
Tarantulas
are both from 1977 (score!). Ants is aka "It Happened at Lakewood Manor." There's a bunch of recognizable faces in this flick, including film legend Myrna Loy, Lynda Day George, Suzanne Somers, Bernie Casey, a very young Barry Van Dyke, Anita Gillette and Brian Dennehy as (gee, no typecasting here) the local Fire Chief.
I'm all about rampaging bug movies, no matter how bad they are, so I'm definitely going to check these out in short order. At $2.44 per film, it's still possible I got ripped off, but I'm looking forward to some unintentional camp value here.
Both of these were written by Guerdon Trueblood, director of cult favorite
The Candy Snatchers
, and were produced by Alan Landsburg, who was riding high at the time with his syndicated paranormal phenomena series
In Search Of
, narrated by Leonard Nimoy (used to watch it every night at 7:00). Ants even has similar synthesizer music to that show, but
Tarantulas
was scored by Mundell Lowe and was supposedly nominated for two Emmy Awards!