Here's another 50 pack from
Mill Creek
that came out fairly recently. Althought the title "
Tales Of Terror
" has already been used by a
Brentwood 10 Pack
, the cover art is really sweet. At first glance it seems to be some sort of devilish creature, but if you look closer, it's just a clown figurine shot in creepy light! Most of the titles are 30's and 40's spook films with the rest filled out with 60's films, but there are a few obscure titles in there including "The Werewolf From Washington".
I wonder is Mill Creek has a deal with
Alpha Video
since many of the titles have previously only been released on DVD by them. Even the 1997 flick "Ironbound Vampire" is part of the the
Alpha New Cinema Series
.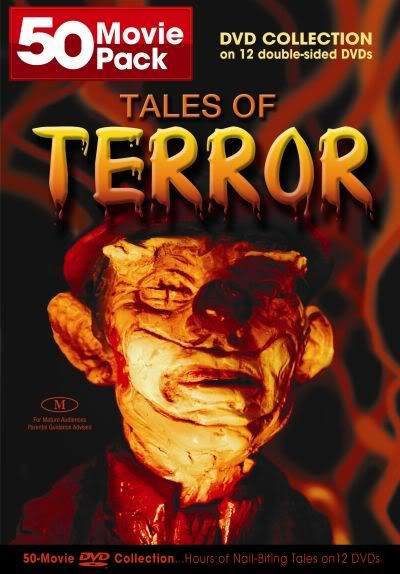 The Amazing Transparent Man
(1960)
The Ape Man
(1943)
The Bat
(1959)
Bowery at Midnight
(1942)
The Cabinet of Dr. Caligari
(1920)
Chloe, Love is Calling You
(1934)
Condemned to Live
(1935)
Crimes at the Dark House
(1940)
The Crimes of Stephen Hawke
(1936)
Crypt of the Living Dead
(1973)
Curse of the Headless Horseman
(1974)
The Devil Bat
(1940)
Devil Monster
(1946)
The Devil's Daughter
(1939)
The Devil's Messenger
(1961)
Devil's Partner
(1962)
Evil Brain from Outer Space
(1964)
The Ghost Walks
(1934)
Hands of Steel
(1986)
The Head
(1959)
The Ironbound Vampire
(1997)
The Island Monster
(1954)
The Long Hair of Death
(1964)
The Man with Two Lives
(1942)
Manos: The Hands of Fate
(1966)
The Manster
(1962)
Midnight Shadow
(1939)
Murder in the Red Barn
(1935)
Never Too Late
(1935)
The Night Evelyn Came Out of the Grave
(1971)
Night Fright
(1967)
Night of the Blood Beast
(1958)
One Frightened Night
(1935)
The Phantom Creeps
(1939)
The Phantom of Soho
(1964)
The Rogues Tavern
(1936)
The Sadist
(1963)
Scared to Death
(1947)
The She-Beast
(1966)
Shock
(1946)
Sound of Horror
(1964)
A Strange Adventure
(1956)
Tales of Frankenstein
(1958)
Teenage Zombies
(1959)
Terror Creatures from the Grave
(1965)
Torture Ship
(1939)
Vampire's Night Orgy
(1973)
A Walking Nightmare
(1942)
The Werewolf of Washington
(1973)
The White Gorilla
(1945)