Well, I made a trip to another Wal*Mart and found the rest of the new batch Digiview titles. I updated the original list, but here are the new titles I found:


Feature Films:
Amnesia (1996)
The Last Game (1995)
Parthenon Entertainment nature shows:
Miracle In The Pacific
Burbank Films Australia Animated Classics:
Great Expectations
Janson Media:
Tai Chi InnerWave with Joey Bond
(Fear the mullet!)
Various:
Puss In Boots (1969)
Double Features(single disc, single side, single layer):
The Painted Desert (1931) & Hittin' The Trail (1937)
The Trial (1962)
(letterbox)
& Escape From Sobibor (1987)
She Came From The Valley (1979) & The Gun And The Pulpit (1974)
The Tell-Tale Heart (1960) & Chiller (1985)

4 Movie collections(single disc, single side, dual layer):
The Sci-Fi Invasion!
-Cosmos: War Of The Robots (1977)
(Anamorphic Widescreen!)
-
Assignment Outer Space (1960)
-
Voyage to a Prehistoric Planet (1965)
-
Warning From Space (1956)
World War II: The German Front
(SS, SL)
-
Prelude To War (1943)
-
The Nazis Strike (1943)
-
The Secret Life Of Adolf Hitler (1958)
-
The Nuremberg Trials (1958)
Only a few completely new titles, but there is some interesting stuff in there. The Puss In Boots is an odd one. It's an AIP televison print of a 1969 Toei Animation film. Even though it says "Puss In Boots" on the cover and "Puss N' Boots" on the end sticker, the actual title is "The Wonderful World of Puss 'n Boots". Even more interesting is that
Hayao Miyazaki
was a key animator on the film! If you want a better print of this, Discotek Media
will soon be releasing
what I imagine is a better print of this, but for 25 times the price(muwahahaha!).
To make it even more confusing, the art on the cover and the shots on the back look nothing like the actual film...which is uncommon for Digiview, especially recently.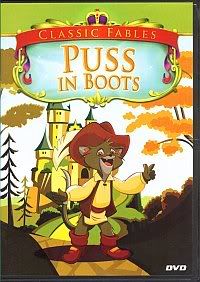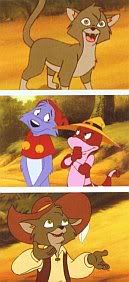 I wonder what film those screenshots are from?
This movie
?