I know this isn't new, but
Rod
over at
Hitch Magazine
sent me a a 20% off code for CrazyApe.com, and they usually have the best prices on these through their ebay sales (24.00 shipped). The code is "BLOOM" and it's good through the end of this month.
Choosing among these
50 Movie Packs
is hard since I usually have most of them separately on single disc dollar DVDs(almost half on this one), but I found a bunch of great titles on "Suspense Classics". I also have to commend the
Mill Creek Entertainment
site for listing a description of every single title on all of their multi packs. They've even added a screen shot or movie poster for each one! ...And they cross reference every title to list which of their collections it's on! I'm glad to see that someone over their is as pathetically detailed as I am.
So without further ado, and although it's fairly redundant due to Mill Creek's great site, here are the IMDb-linked titles for
Suspense Classics
.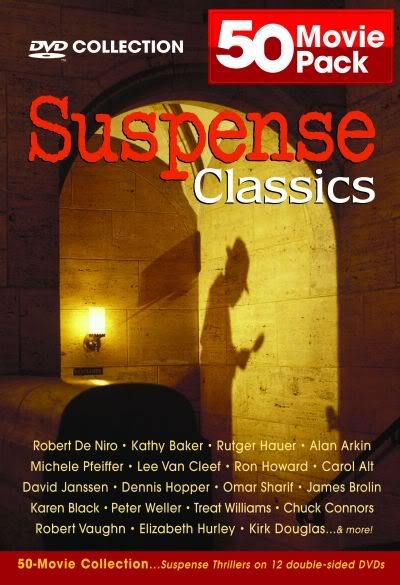 Bail Out (1989)
Beyond Justice (1992)
The Black Raven (1943)
Born to Win (1971)
The Boxer (1972)
The Cape Town Affair (1967)
Cat O' Nine Tails (1971)
Code Name Zebra (1984
)
Cold Blood (1975)
The Cold Room (1984)
Corrupt (1983)
The Crime Boss (1971)
Cross Mission (1988)
Cry of the Innocent (1980)
A Dangerous Summer (1981)
Death Collector (1976)
Death in the Shadows (1998)
Dominique (1978)
Escape From Sobibor (1987)
Five Minutes to Live (1961)
The Forest (1983)
Hollywood Man (1976)
Julie Darling (1983)
Kill Cruise (1990)
A Killing Affair (1986)
Lady Gangster (1942)
The Lucifer Complex (1978)
The Manipulator (1971)
Master Touch (1972)
Midnight Cop (1988)
Millions (1991)
Mitchell (1975)
Murder Once Removed (1971)
Mysteries (1978)
Night of the Sharks (1987)
The Night They Took Miss Beautiful (1977)
Paco (1976)
Paper Man (1971)
Power, Passion and Murder (1987)
Rogue's Gallery (1944)
The Seducers (1977)
The Sell Out (1976)
Seven Doors to Death (1944)
The Sphinx (1933)
The Squeeze (1978)
The Stoolie (1972)
The Swap (1969)
Target of an Assassin (1976)
A Tattered Web (1971)
The Woman Hunter (1972)
I'm glad to see that Mill Creek continues to bring out these obscure titles for such a great price. Again, there are more than a few titles that
Unknown Movies
has reviewed, I wonder if someone over at Mill Creek is a fan? I think I'll post a couple more of these lists because the
Musicals
and
Warriors
packs are looking tempting. Damn you Rod! You've done it again!
Mill Creek, if you're reading this, please bring out a Spaghetti Western set! Anybody else have ideas?