I have to admit it. I unabashedly love the films of
Andy Sidaris
. Even though I already had all of his films on VHS(yes, even
Stacey
and
Seven
), I started to buy the DVDs as they came out. Unfortunately, something happened with the releases and only 7 of Andy's 12 films made it to the market.
Happily, Brentwood has stepped up to the plate and is releasing all of the films as four 3-packs. From what I've heard, all the discs have the previous original bonus content and the new releases also have the same royal treatment. The list price is 19.99 per set, but most places have it for under 15 bucks with Deep Discount DVD once again leading the pack with a price of 10.79 each(with free shipping!). Volumes 1 and 2 are coming out on November 15, and 3 and 4 follow next year on February 14th.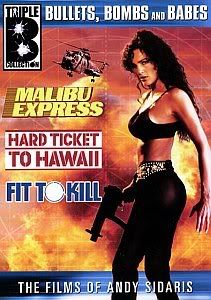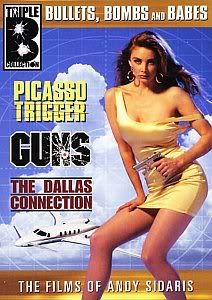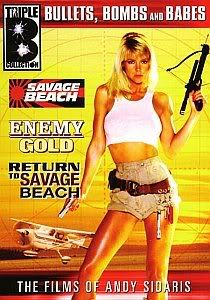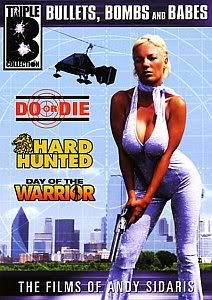 Triple B Collection - Bullets, Bombs, and Babes - The Andy Sidaris Collection
Vol.1
Malibu Express (1985)
Hard Ticket to Hawaii (1987)
Fit to Kill (1993)
Vol. 2
Picasso Trigger (1988)
Guns (1990)
The Dallas Connection (1994)
Vol. 3
Savage Beach (1989)
Enemy Gold (1993)
Return to Savage Beach (1998)
Vol. 4
Do or Die (1991)
Hard Hunted (1992)
Day of the Warrior (1996)
As
mentioned on Hitch
, I think this deserves a virtual
Andy Sidaris Hi-Five
.