---
Run on Budget DVDs
Author: JESSICA WOLF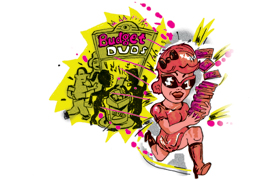 The budget DVD market is booming. When BCI Eclipse first went to a trade show for surplus goods suppliers in Las Vegas four years ago, it was one of just three companies pitching dollar DVDs.
At last year's show, there were 22, said Greg Glass, SVP of BCI.
As the number of budget-DVD suppliers has mushroomed, so has the market it serves. Though the original target for $1-priced discs was dollar stores, the bargain-basement-priced DVD is popping up everywhere — in drugstores, supermarkets … even mass merchants such as Target Stores and Wal-Mart.
Budget providers are bullish about the business, even though they're vying for the same shelf space — and, quite often, with the same royalty-free, public-domain content.
Gary Delfiner, co-founder of Global Multimedia Corp., said while there's more competition in what he calls the "value business," the market is far from saturated. In fact, he said he's planning on doubling his sales force this year.
Genius Products CEO Trevor Drinkwater entered the value game strong at the beginning of 2004. He said many of the newer players may be getting into public-domain sales in the hopes of turning a quick profit and trying to keep costs low by sourcing in product from China. But, he said, when margins are counted in pennies, it's critical to have a strong operations system to keep retailers happy.
"There's a pretty high level of service required in this market, and there's a lot of potential to lose your margin," he said.
Retailers come in and out of budget, BCI's Glass said, adding that "a lot of it is dependent on the studio releases."
With such tight margins on product, retailers always are working out ways to maximize floor space and cost per square foot for budget titles.
Late last year, Target Stores created "The $1 Spot." The front-of-store locations, which were rolled out in time for the holidays, were packed with $1 goods, including an ample supply of DVDs. By mid-December, 19 of VideoScan's 50 top-selling DVDs were from Genius, which at the time was furnishing Target's $1 discs. Among the top sellers were compilation DVDs of "Popeye" cartoons and "The Lucy Show" episodes.
The budget DVD craze most likely originated several years ago, when Wal-Mart began setting up giant dump bins of $5 catalog product, Glass said.
It wasn't a new idea, but prior to Wal-Mart's strategy, these bins were transitory — they were used to get rid of a lot of product quickly and then removed.
Now, Wal-Mart also carries $1 product, mostly through Digiview Productions, formed in January 2004. The company's Web site says it regularly adds new titles to its catalog, much of it from the public domain.
Budget suppliers tend to work closely with their retail accounts. It's a no-return business, and with everyone offering essentially the same content, it's important to forge strong relationships, Delfiner said.
The dollar DVD is an incremental sale, not a replacement for another DVD purchase, he noted.
"Nobody price-shops this product," he said. "It's complete impulse, like buying a candy bar. You see a Kit-Kat, and if you want one, you buy it. You don't go to a store down the street and see if they have a better price on it."
The Future
One thing on every budget DVD supplier's mind is the finite amount of royalty-free titles in existence — maybe 1,500 to 2,000 total. Copyright laws and licensing practices over the past few decades have slowed the pace of new content dropping into the public domain. As a result, suppliers said, they need to get creative.
BCI began adding exclusive licensed content with public domain content to differentiate itself, Glass said.
Delfiner would like to convince content providers that there may be budget life for titles after they've juiced out their rental and sellthrough runs.
Genius has a few ideas on how the budget game might feed the company's growth as a front-line independent supplier. It's getting into fitness for the first time this year, in part through the company's acquisition of the Wellspring library. There might be potential to one day put out a 15-minute workout on a $1 disc and capture consumer attention for a brand, inspiring a future sale of a higher-priced product, Drinkwater said.
Budget titles may seem counterintuitive to the next-generation market, but suppliers said they are readying for that, too.
After all, they've already taken this content and remastered it for DVD. Once demand goes up and cost comes down, high-definition is the next step.
"This is not a business that is going out of business," Delfiner said. "This is a business that is going to increasingly broaden as we penetrate more and more of the retail base."
---
By way of
popmusicpopculture
.