I found these today at a 99 Cents Only. They're in paper cases.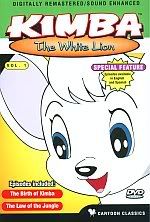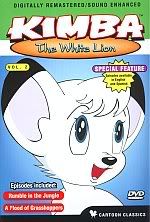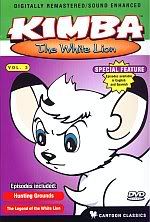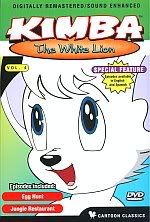 Kimba the White Lion
is the 1965 TV series that Disney rip of from to create The Lion King. There are 2 eps each per disc, and there are Spanish and English versions of each episode. They quality is okay, there are video titles and a godawful 80's theme song on each.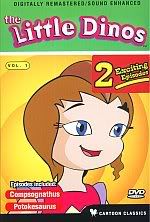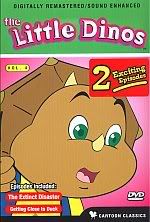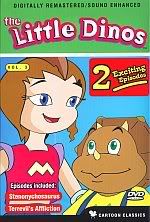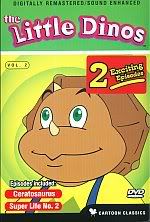 The Little Dinos
is as the website puts it,
"...a 26-episodes scientific cartoon, which is the first sub-section of the 8 part series "The Miraculous South Natural Science Museum Park". This series has been independently produced by Guangdong South Natural Science Museum Park Co. Ltd."
yeah.
It's Chinese in origin and it was made in the last few years. Each episode is 13 minutes long, unfortunately there are only two per disc. Pretty skimpy. They're pretty goofy, but well-done. On the
english website
, I was able to find the following press release:
The Little Dinos Enters US Market (2004-12-27)

Genius Products Inc., a U.S. leading provider of family entertainment, has recently bought the video right of our sci-fi animation the Little Dinos and will take out its video products during Christmas. After over a year's marketing, the Little Dinos enters US market with its vivid pictures, well-knit story line and solid scientific knowledge. Up to now, the animation has also sold to over twenty other countries and regions like South Korea, Indonesia, Singapore etc., which fully proves the animation's over-all quality and competitiveness in international market.
There's even
a store
on the site with games, toys and VCDs of the show.