I was at a local(Houston, TX) Walgreens and was looking at their Diamond releases full of PD cartoons that they sell for 3.99 each, 2 for 5.00, when joy of joys I saw that they put out some holiday discs at the same prices. Here's what I found.
I saw 5 different discs. Each has about an hour and a half worth of stuff on them. usually one long feature and then padded out with shorter cartoons.
The Diamond website
lists only 4 discs and a box set of the 4 called "Christmas Favorites". Not listed on the site is one of the discs I purchased called "The Littlest Angel". I have most of the material from the other discs on the genius holiday set so I only picked up two.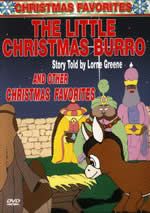 (Just assume I've added "...AND OTHER CHRISTMAS FAVORITES" to each of these titles, okay? thanks.)


Santa's Pocket Watch
Santa's Pocket Watch(20min) -
Santa's Surprise
-
Hector's Hectic Life
-
Snow Foolin'
-
Christmas Comes But Once A Year
-
Jack Frost
-
Somewhere In Dreamland
Santa's Pocket Watch is interesting. It's narrated by
Willie Rushton
and it's very very British. I haven't found a date, but I'm assuming late 70's. Directed and animated by Pete Parsons.


The Little Christmas Burro
The Little Christmas Burro
-
The Star of Bethlehem
- The Candlemaker - A Christmas Visit -
Toys Will Be Toys
-
The Christmas Visitor
Santa and the Three Bears
Santa and the Three Bears
-
A Waif's Welcome
- The Snowman

Jack Frost
Jack Frost
- Christmas Circus - The Twelve Days of Christmas
The one not on the website or in the box set is this beaut:
The Littlest Angel
The Littlest Angel(15min) -
The Snow Queen
(69 min)
Not sure why they titled this one with the shorter of the two. The Snow Queen is pretty interesting Russian animation from 1957. Although he's listed in the credits, this version omits the 5 minute live-action opening with Art Linkletter.
If you don't have a Dollar Tree near you to get the genius discs, maybe you can find a Walgreens and pick these up, they're pretty nice.