Well, They sure came out earlier than I expected. I have been checking various Dollar Tree's and 99 Cents Onlys because I assumed the Treasure Box holiday DVDs would be showing up soon. Well I found holiday DVDs, but these the "movie/television/cartoon classics" are put out by genius entertainment. And not surprisingly it's many of the same titles as the one listed on the Treasure Box website. Here's a list of the ones I found. The display looked really full, so I think I saw them all.
---
The Great RupertSanta & The Three BearsJack FrostThe Jack Benny ProgramSanta Claus Conquers The MartiansThe Little Christmas BurroBeyond TomorrowThe Adventures Of Ozzie & HarrietA Christmas Without SnowScroogeHoliday Classics
2
Red Skelton Show
episodes, 1
Ray Bolger Show
episode
Holiday Christmas Classics Vol. 1
One episode each of: Christmas Shop,
Crossroads
,
Date With The Angels
Holiday Christmas Classics Vol. 2
One episode each of:
Adventures Of Long Johns Silver
(Arrr, it be Christmas!),
The Bob Cummins Show
,
The Ruggles
The NutcrackerClassic Holiday Cartoons Vol. 1Classic Holiday Tales
On the back it's listed as "Classic Holiday Cartoons Vol. 2"
Santa Claus
---
I don't know why these cheap Christmas movies excite me. I love me some Christmas just like any other competent American, but I don't go completely haywire over it. Maybe it the forced nature of these original stories, having to try to come up with a whole new take on the season and failing horribly. While I wish I could have picked all of them up in one feel swoop, things are a bit tight over here in packratlandia, so I'm a gonna hafta wait till I can sell some more blood and semen to get a complete set. Here's what i did get: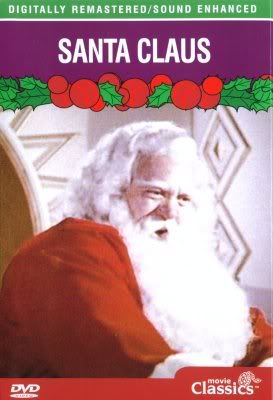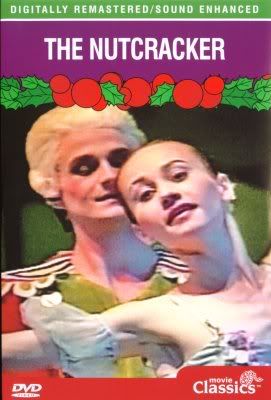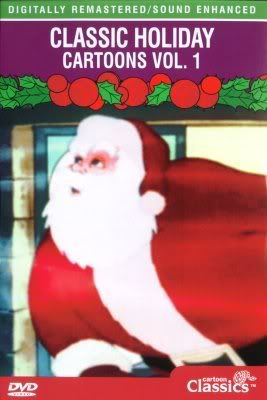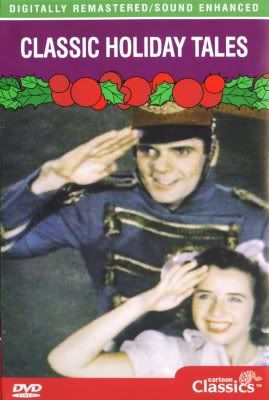 Yes, the cover pictures are that blurry. They're video captures.
Santa Claus
- Yup, I now finally own the 1959 Mexican Santa Claus movie wherein he fights the Devil's head demon named Pitch...on DVD. Fans will be glad to know that this is the uncut American version, as it still had the African children sequence in it. Here's the copy from the back cover:
"In this fantastically bizarre and colorful Christmas fable, the Devil himself tempts children into being naughty and getting the best of Santa Claus. But with Santa's weird wild tricks and gadgets, potions and spells, and the help of his wizard friend, he may just thwart the evil afoot."
The Nutcracker
- The famous Tchaicovsky ballet based on the tale by E.T.A Hoffman is recreated here by these guys:
What? You mean you've never heard of The Ballet Of The Slovak National Theatre or the Children Of The Dance Conservatory Bratislava?!? You uncouth bastard.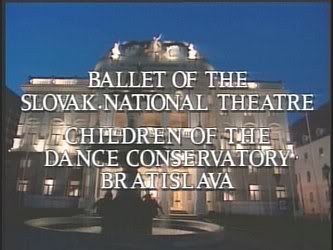 Being the uncouth bastard that I am, I looked around and discovered a bit more about
Slovakia
. Very Interesting. You can buy this exact same DVD at Amazon for 10 bucks. Looks like it was put out by Laserlight among other companies. Shot on video in 1900 or 1995. Nice presentation.
Classic Holiday Cartoons Vol. 1
- Bunch of old public domain cartoon(with one exception) shorts that are very common to other collections. About 1 hour total.
1. Rudolph the Red-Nosed Reindeer
2. Santa's Surprise
3. Christmas Comes But Once A Year
4. Hector's Hectic Life
5. Jack Frost
6. Shanty Where Santy Claus Lives
7. Snow Foolin'
8. Howdy Doody's Christmas (live-action)
Nothing too crazy here, but the Howdy Doody live-action short is awesome.
Classic Holiday Tales
; listed in the back as
Classic Holiday Cartoons Vol. 2
- More shorts, all but three are live action. About 1 and a half hours total.
1. Santa and the Fairy Snow Queen (really weird. 25 minute. awful costumes. amazing)
2. Silent Night (Vienna Boys Choir singing with holiday footage)
3. The Home of Santa Claus
4. Christmas Dream
5. Gift Wrapped (animated)
6. Christmas Fairy Tale
7. A Present For Santa Claus
8. Little Gray Neck (animated)
9. Christmas Night
Lots of great stuff here! It's got one film I've read about previously that seems to be the filming of some sort of elaborate store display or ride with mechanized figures. Highly Recommended.
I'll report back when I can get my hands on more, or see releases by other companies.