I like all of the Treeline single discs that I've been getting lately. There's some nice stuff not covered by too many other companies.
But their standard of quality checking leaves much to be desired.
"Cold Blood" says "Beyond Justice" on the spine (both are Rutger Hauer flicks.)
"Head Hunter says "Fist Of Fear, Touch Of Death" on the spine.
"Cold Sweat" has the synopsis to "Someone Behind The Door" on the cover (both are Charles Bronson films.)
And here's the DVD menu for "Embryo":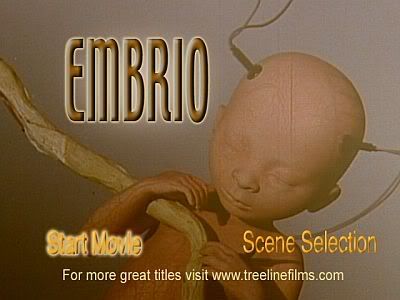 Wonderful spelling. Sure glad they didn't bother to clean up that screen shot they used, either. Nice scratches in the film.
Well, they were all a dollar, whadya expect?!